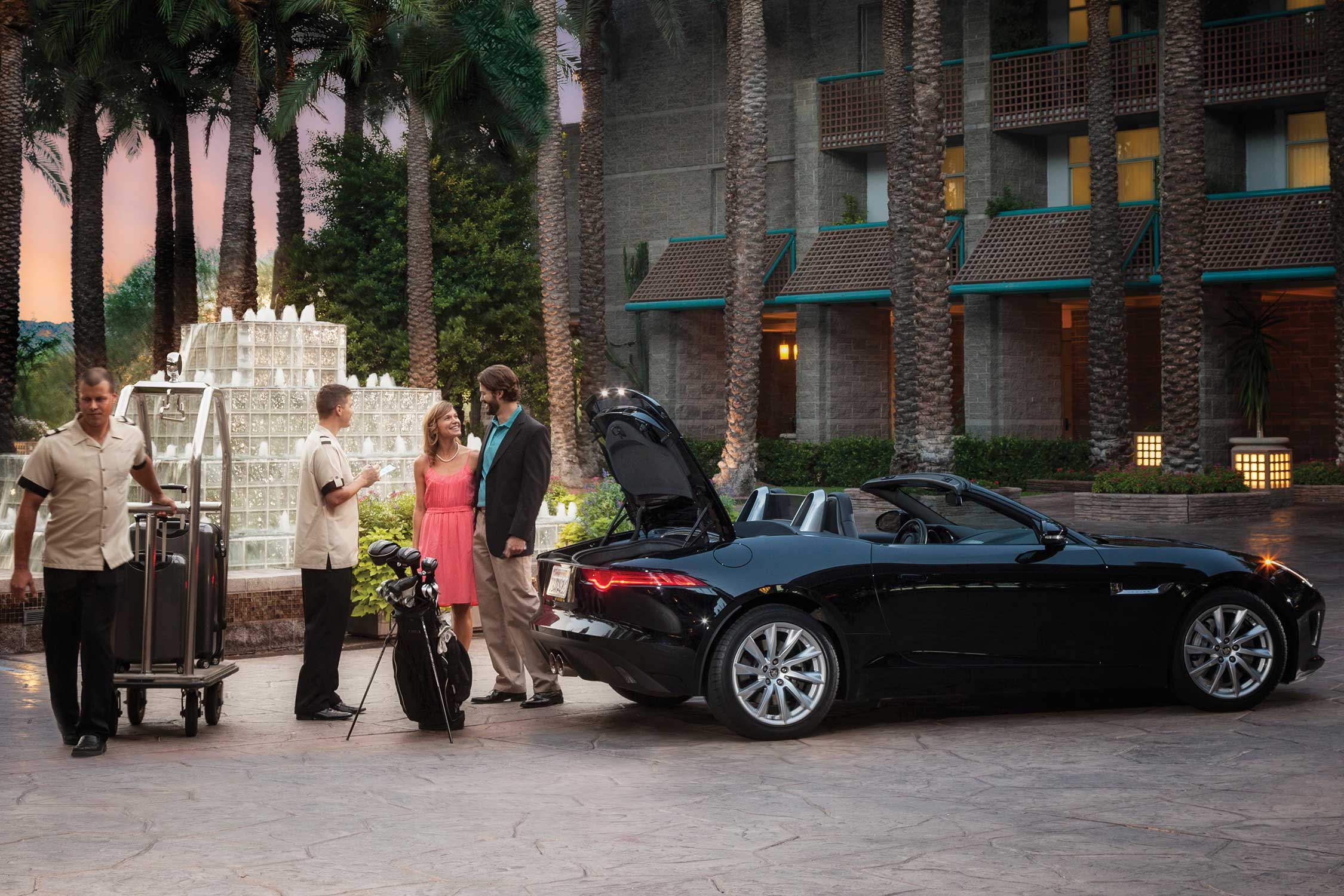 First impressions are critical in the hospitality industry, and with many customers arriving at your hotel or resort after a long flight or car ride, the valet and customer service they receive at the front door sets the tone for their entire visit.
What Services We Offer
In addition to our valet services, we also offer a number of other positions that fit your specific needs. Front-door ambassadors make sure the first face your guests see is friendly, uniformed professionally and equipped with the training to best reflect your company's brand and values. With many guests wanting to get out and explore the sights, or just a have a reliable way to and from the airport, our shuttle and charter services are a perfect match. Our shuttle operators assist with guest's luggage, loading and unloading to better serve guests with mobility issues and ensuring they are not haphazardly loading and unloading heavy bags from the back of an Uber. Combining applicable local knowledge with courteous and expedient customer service, our shuttle and charter services are far and above the services competitors offer.
Even with all the conveniences modern technology provides, our knowledgeable and professional concierge staff is still a vital part of providing your customers with a 5-star experience. Our concierge staff frees up guests' time and offers unparalleled insider knowledge and skills they can't find elsewhere, while also being easily accessible and convenient. For many customers, exclusivity and luxury are highly sought after, and whether it's a rare bottle of wine or tickets to a sold-out event, guests want to know they can rely on someone with the connections they lack to take care of it.
Our bellhops make sure your guests' luggage is taken care of and are the first staff members to show guests their rooms, often making sure the television and temperature systems are working and to the guest's liking. If not, bellhops promptly report problems to maintenance. They also deliver food and drink orders to guest's rooms, and make sure their immediate needs are provided for.
Our guest attendants and mystery shopping quality assurance employees ensure guests are taken care of and that restaurants and stores are previously assessed to give your guests the best options from a customer service perspective. Because we offer such varied and in-depth customer service options, you can be assured that your guests are completely taken care of for the entire duration of their stay.
We also easily and effectively address staffing concerns, and understand that running a successful hotel, resort or casino necessitates recruiting the right people. American Parking & Services alleviates this burden by providing employee screening, hiring and training as well as reporting tools and regular reports about how well your staff is doing. A large, well-trained team is essential in running a successful hospitality business, and we make it as effortless as possible.
Native American gaming dominates a large part of the Southwest market, and we especially pride ourselves on bridging the gap between the hospitality industry and reservations, by providing entry- and mid-level positions to tribal members as well as management training. This program strengthens your employees' careers while helping to ensure a successful, service-oriented environment.
Why Transport Services Are Important
We valet and charter more than 900 special events annually, from intimate gatherings to premier events attracting guests in the thousands. We also offer our clients a great deal of variability — any event is open to complications, so if you are behind on planning or didn't account for the number of guests who are actually going to show up, we have over 100 dedicated event valets to fit your needs and ensure that your event goes through as efficiently and easily as possible.
There's already so much that goes into managing and running a successful hotel, resort or casino. With how competitive the hospitality industry is, you want to spend less time worrying about day-to-day customer service experiences and more about the long-term growth of your hotel or casino itself. That's why we are here to walk alongside you and make sure from front to back your guests are professionally and efficiently cared for.
From check-in all the way to check-out, our friendly and knowledgeable staff will guide your guests effortlessly through any questions they have, from transportation to local attractions. A smile or kind word can go a long way in establishing a great first impression that will transform your first-time guests into regular patrons. With decades of experience and a customer-focused approach, we make sure to take the pressure off of you by providing consistently exemplary customer experiences.
Why Choose Us?
At American Parking & Services, we have more than 40 years in the parking management industry and have worked with some of the biggest names in the hospitality, healthcare and entertainment industries. Over the years we have grown exponentially, and we are now in over 80 locations across the Southwest and employ over 600 employees. Our foremost concern is still providing exceptional, top-notch service to any guest who walks through your doors. The moment a customer steps onto your property, we want to ensure that they have a 5-star experience. From valets to shuttle service to concierge and bellhops, we make sure each and every guest who stays at your hotel, resort or casino receives the VIP treatment.
Contact our Division Manager at 503-861-9182 for pricing and a customized program.