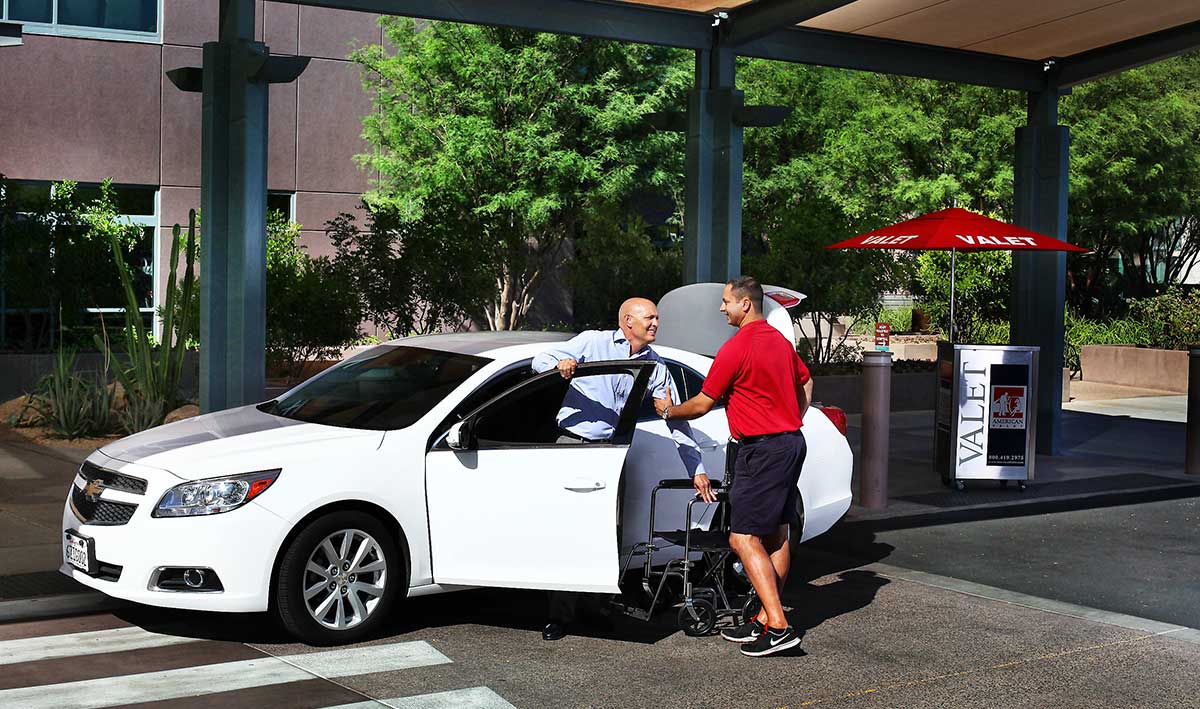 If you or a loved one is in the hospital or trying to get to a medical appointment on time, the last thing you want to worry about is finding a parking space. At American Parking & Services, we want to make the process of getting visitors or patients in and out of your medical center or hospital a breeze. Our staff receives specialized training to be able to meet the needs of healthcare patients that goes above and beyond the usual valet experience.
Courteous customer service and personalized attention go a long way towards making your patients or guests feel that they can focus more on visiting loved ones or receiving treatment than parking or navigating a wheelchair through a parking lot. With many hospitals and healthcare facilities realizing how beneficial valet service is for their guests, you want a company you can trust to provide the best possible service.
More Than a Valet
Navigating hospital or healthcare parking lots can be challenging, and as hospitals can be a common source of anxiety, not being able to find a parking spot only exacerbates it. For many who are ill or who are visiting loved ones that are, having a friendly face that makes coming and going as effortless as possible makes all the difference. Our patient-first approach allows us to better serve their needs – making sure guests are courteously received and safely inside your building before parking their vehicle. By putting the emphasis on warm and attentive service, our attendants are able to be so much more than someone you just drop your keys off with.
Because most hospitals see a large influx of people, their parking structures and complexes are often very large and difficult for many to navigate, especially considering those who use a wheelchair, walker or require any kind of mobility assistance. By hiring a valet company to provide parking assistance, you allow patients and their guests peace of mind that they can quickly and easily leave their vehicles, come through your doors and have their ride ready when they are done. Inclement weather conditions make non-valet parking even more difficult, so by providing valet service you can prevent injuries from people trying to cross ice or rain covered parking lots and incentivize them to still make their appointments on time even during bad weather.
Many hospitals pride themselves on providing exceptional care for their patients, but often have little control over maintaining that care outside their doors. Making sure your guests are able to go to and from your facility safely and efficiently gives them a stress-free experience and allows you to focus on providing the same exceptional care once they arrive. Reliable parking and transportation service helps keep guests loyal and willing to utilize your services any time they need medical assistance.
How We Train Our Staff
Because patients or guests visiting your facility will often have unique needs beyond just someone to park their car for them, our valet attendants receive specialized training and are well-versed in ADA requirements, DOT guidelines and even HIPAA and EMTALA. Being ADA compliant means ensuring that guests with disabilities have adequate space to park and an accessible parking and loading zone that makes it easy for those who require more advanced mobility assistance to safely arrive at and leave your facility. Focusing on providing accessible parking options means that regardless of a patient's situation they have a way of getting to their appointment on time and without risk. All our attendants are also well-versed in DOT guidelines and take the responsibility of operating and caring for your vehicle seriously – you want your patients to be comfortable leaving their vehicle in safe hands. And a familiarity with HIPAA and EMTALA regulations makes sure our attendants act discreetly and serve everyone, regardless of their situation.
Why Choose Us?
Most people do not look forward to hospital or medical office visits, and even less so when parking or transportation is a hassle. By providing outstanding parking service and equipping our staff with specialized training, you can be sure that patients are better able to make appointments on time, get in and out faster and make the whole experience a lot less stressful. Hiring a valet company means no worrying about late patients or parking lot accidents and allows you to focus on providing exceptional healthcare.
At American Parking & Services, we have more than 40 years in the parking management industry and have worked with some of the biggest names in the hospitality, healthcare and entertainment industries. Over the years we have grown exponentially, and we are now in over 80 locations across the Southwest and employ over 600 individuals. Our foremost concern is still providing exceptional, top-notch service to any guest who walks through your doors. The moment a customer steps on to your property, we want to ensure that they have a 5-star experience.
To learn more about why our services are perfect for your business, visit here or contact us for a quote.
Contact our Division Manager at 503-861-9182 for pricing and a customized program.