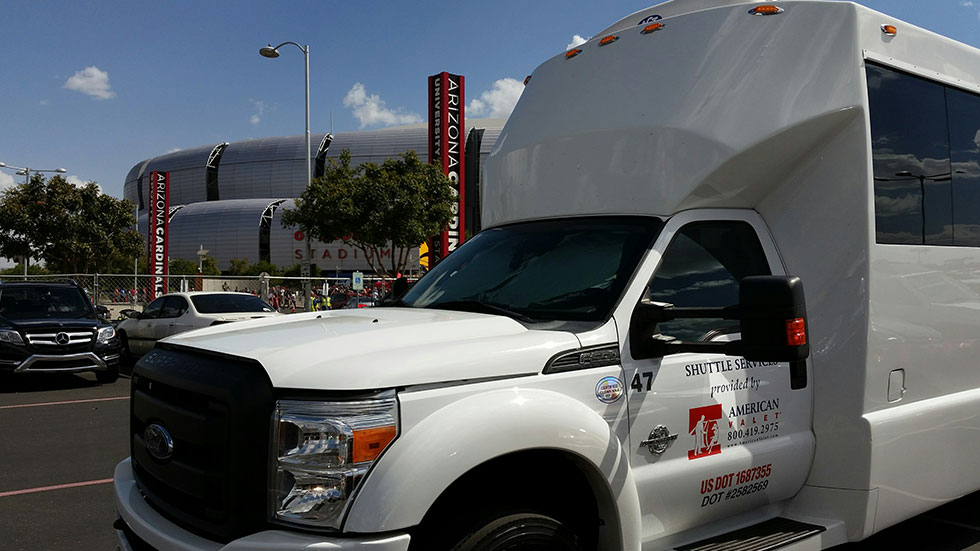 American Parking & Services is ready to take on any party you plan, delivering unmatched valet and charter transportation services for private and special events.
Our professional valets and chauffeurs ensure your guests are served with the utmost courtesy, customer service and safety.  American Parking & Services is certified to chauffeur your party guests or simply park their vehicles after they arrive. American Parking & Services has luxury mini-buses, mini-vans, multi-passenger golf carts and even 27 passenger motor coaches to transport your guests from site to site.
We can accommodate every little detail you desire to make your party unique and truly memorable.  With over 37 years in the business, our standards go unmatched in the Phoenix, Scottsdale, and Paradise Valley. Our previous clients come back again and again for the most reliable, friendly, and experienced private party or special event valets in the Valley of the Sun. We're more than just a business. We're a business that strives to see you happy with your valet and transportation service for memorable occasions and parties.
We offer valet and charter transportation service for parties and events such as:
Private Parties
Weddings and Receptions
Anniversaries
Mitzvahs
Family Reunions
Holiday Parties
Corporate Parties
Golf Tournaments and Other Sporting Events
Grand Openings
Fund-Raisers
Charitable Events
Quinceañeras
Last Minute Party Valet and Charter Transportation Service
Did you just earn a job promotion? Did you get engaged last night? Did your small guest list just double or even quadruple?  Sometimes, life moments surprise us in a great way! If you have a last minute need for valet or charter transportation service at a party or event, we can help.  Our constant communication and ability to jump at a moment's notice means that you'll never have to worry about parking or transportation when you want to celebrate!
No matter where your party or event is held in the Phoenix, Scottsdale, Paradise Valley or anywhere in the Valley of the Sun, count on American Parking & Services to be there curbside! Our employees are excellent valets with an extensive safety records.
The Luxury of Providing Private Party Valet and Charter Services
Have you ever attended a party in the Phoenix, Scottsdale, Paradise Valley or anywhere in the Valley of the Sun at which you had to find a parking space in the crowded streets and garages, only to walk several blocks to the event? This is highly inconvenient and uncomfortable when it is too hot or too cold.
Valet service adds a sense of luxury to parties. It enables guests to arrive and enter a venue quickly without fuss or risk. They simply hand their keys over and walk through the door. It's an elegant process in which every valet at American Parking & Services takes extreme pride. Each valet acts with decorum and has a high degree of training that enables the process to go smoothly for guests arriving and departing.  When the car rolls to a stop, each guest is promptly greeted with a smile and an open door. In this way, each person entering the event has an immediate positive impression. That impression is carried through to the end when their vehicle is brought to them, car door open and keys ready to drive home. The party valet experience bookends a luxurious event.
American Parking & Services also offers charter transportation service from site to site.  Guests can be transported luxuriously from site to site and can enjoy the festivities while getting to know each other and not having to worry about choosing a designated driver or navigating an unfamiliar city.
At the end of the night, every guest will feel like royalty!
To learn more about the process, experience, and benefits of hosting a party with valet service from American Parking & Services, feel free to contact us at (480) 424-8347.
Contact our Division Manager at 503-861-9182 for pricing and a customized program.